Gustu Restaurant Review
This post isn't a photographic post but a review of (or moan about) our evening at Gustu restaurant in La Paz.
So last week we dined in 'Gustu' Restaurant, located in the southerly, more upmarket side of La Paz, called Zona Sur. I myself am not much of a foody. Don't get my wrong, I like my food- that much is clear to see, but I have never considered myself a huge lover of fine dining (at least not to this degree). Perhaps it is the massive prize tag that often goes with it or the tiny taster portions that don't really take my fancy.
However, I was assured by fellow intern and New Yorker, Finn, that this would be an experience not to be missed.
Gustu opened in April 2013 by Claus Meyer who cofounded 'Noma' in Copenhagen, Denmark. For three consecutive years (2010,11 and 12) 'Noma' was ranked the best restaurant in the world by 'Restaurant' Magazine. So, this new restaurant in Zona Sur is somewhat of a talking point in the food world. When Meyer announced that he was to open a fine dining joint in one of Latin America's poorest country his colleagues and admirers were more than a little shocked.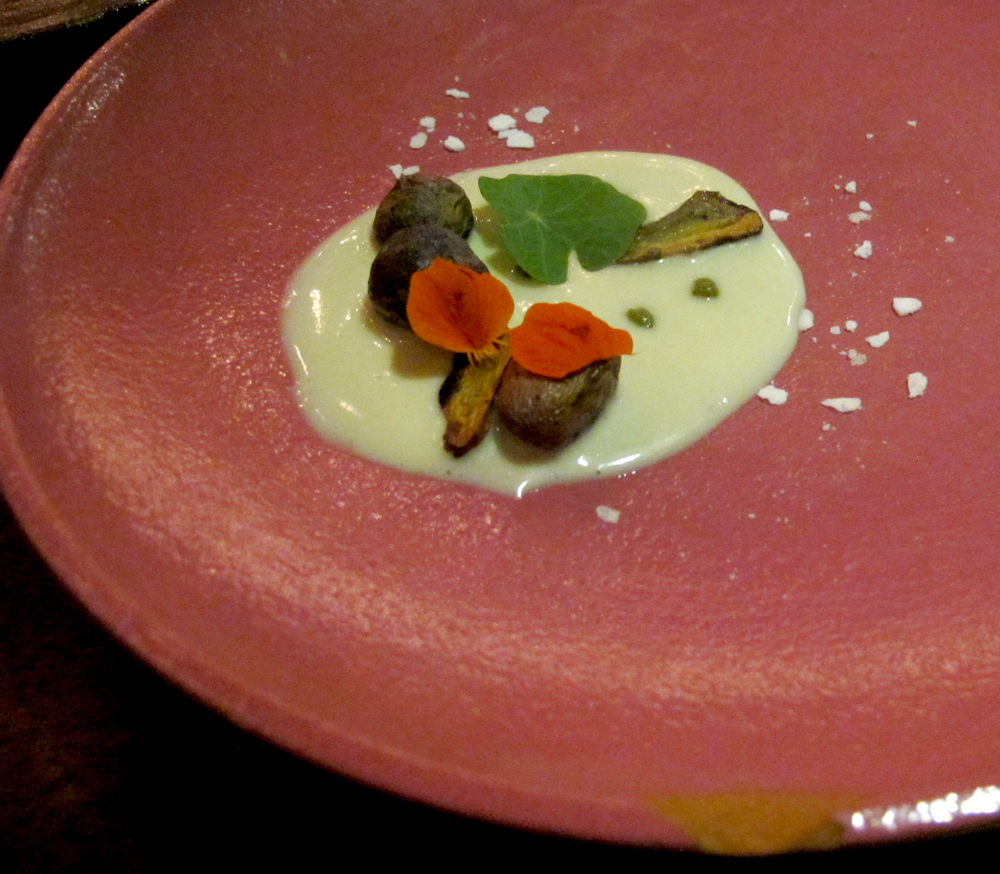 The potatoes three ways course.
The price tags were big- for Bolivia that is, a place where you can pick up a half decent lunch for less than 20bs- thats about £2. We paid 540bs for a seven course taster menu with wine. So, considering that this restaurant is a big deal and has very close ties with one of the best in the world, paying about £60 for the evening is pretty good going.
Now, I'm going to shock you all by being not as impressed as I probably should be, or am expected to be, by the food. I'm sure by the time this has been read by a few foodies there will be an angry mob of fine dining lovers coming after me with pitchforks… or just silver plated polished forks.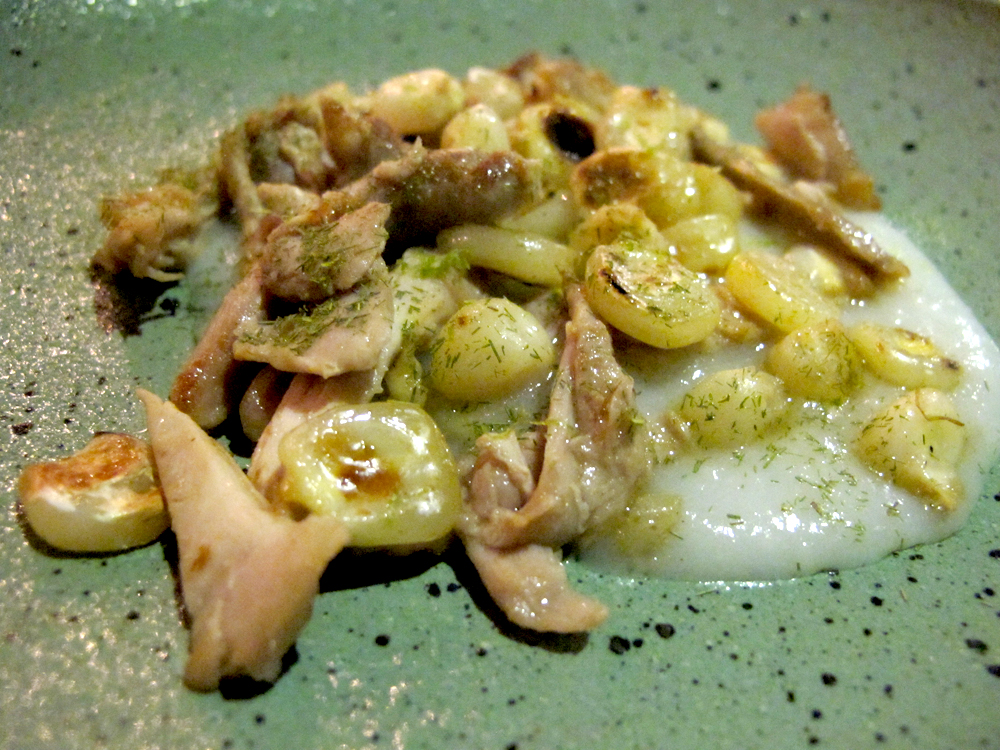 The rabbit and corn course.
The food was interesting. It was different. It was often simple in ingredient, but not in preparation. For example, there seemed to be a lot of laminated food, salt and beetroot are the two that first come to mind. How you laminate food I have no idea. Each course was accompanied by a fairly in depth description of the ingredients and process of preparation, so I won't pretend I can remember every detail of each course. The first course though, after an appetiser and bread with 2 types of butter churned on site, one of which was a coca butter, sort of summed it up for me.
It tasted like.. well, you know when you're really small and you think its a great idea to put that handful of mud and grass into your mouth? Yeah. But no fear, that was the aim. I seem to recall it was some sort of representation of the earth. Fitting, as agriculture is an important part of Bolivian industry and life, but that isn't to say I want a slice of the earth on my dinner plate. It was a piece of art I was eating, not a meal.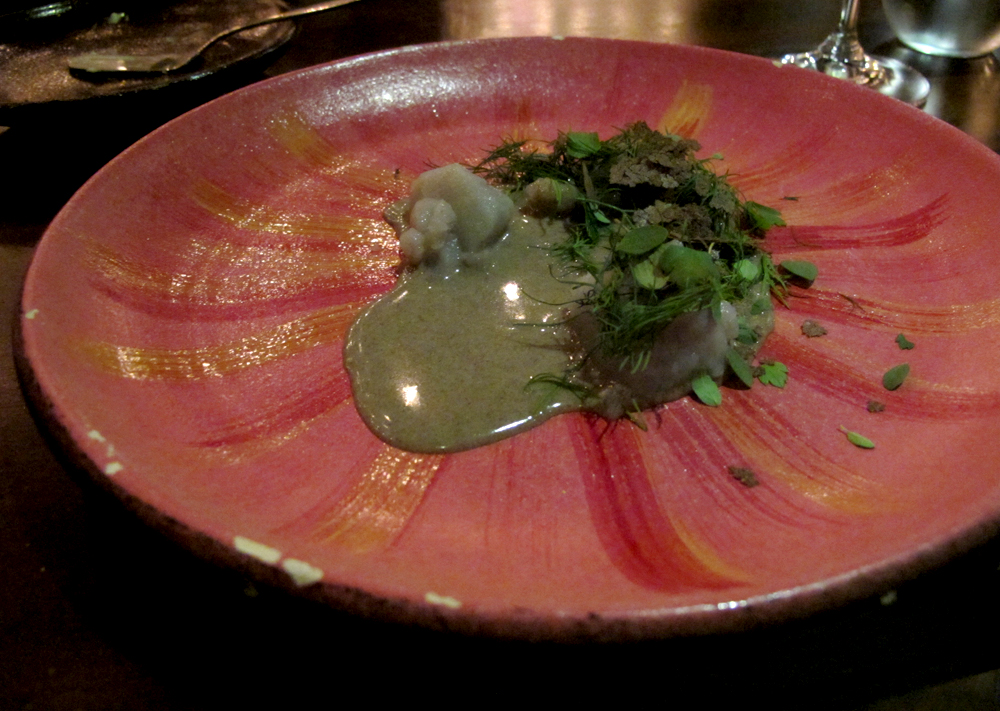 The course that can only be described as the 'mud' course.
Though many courses were tasty, the rabbit and lamb stood out to me, it wasn't a meal to really enjoy. It was something to be marvelled at, that represented this or symbolised that. To me, thats not what great food is about.
I'm glad I went and experienced the evening. The service was top notch throughout the night and the explanations of each course were informative and interesting. For me, the best part of the meal was the variety of Bolivian wines and beers which accompanied each course. Bolivian wine isn't something I've heard a great deal about in the past, as Chilean vino usually overshadows their neighbours attempted at fine wine. But in terms of the food, give me a salteña at 7bs over that meal any day!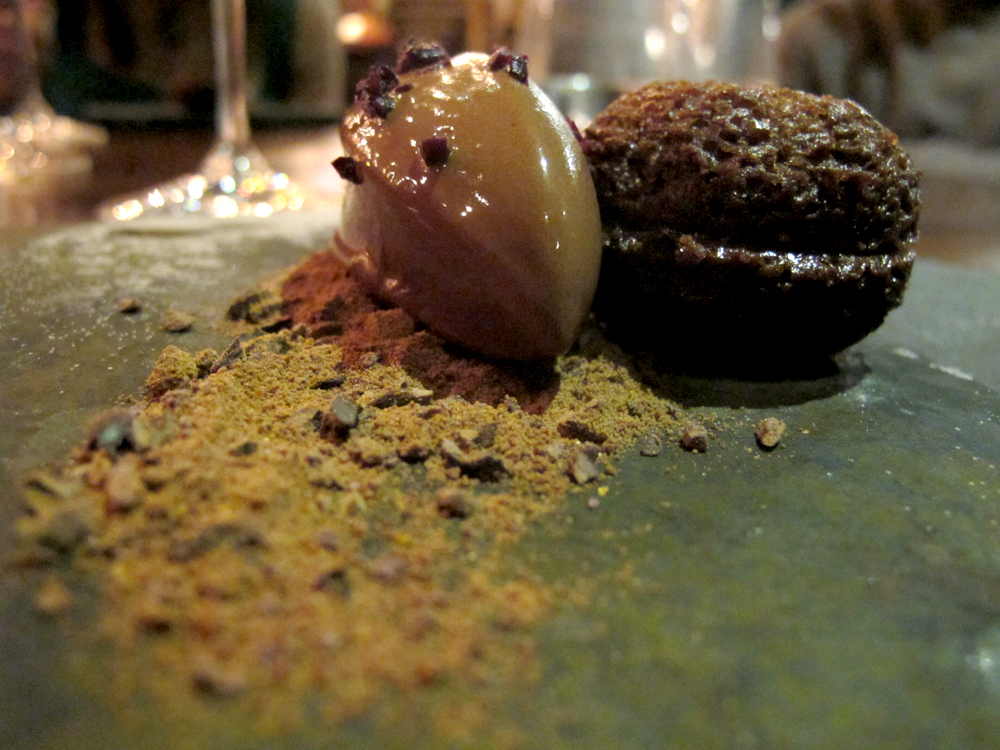 One of the two deserts we were served.
I'd like to apologise for the low quality of these images, on such a badly lit table and without wanting to use flash and ruin the oh-so-sophisticated atmosphere I did my best to photograph the meal to show you all!