36 Hours of Madness. Oruro Carnaval
A little more of a light hearted post for you here about our experience at Oruro Carnaval. But before the post begins I would like to first offer my heartfelt sympathy to those who lost their lives during the Carnaval in Oruro and also to the friends and families of those who where involved in the tragic collapse of the footbridge during the parade. 
It was 36 hours of the biggest highs and lows. I have decided that the best way to try and capture it for you is in list form. So, from 1-10, here is my Carnaval experience.
1. Meet Ollie at 12am on the local Plaza, at 1.45am we're on our way. Got there by minibuses, not a proper bus. Four and a half hour of being in the same position. With a 4 minute stop off for a pee behind a lorry and a cigarette. Getting out of the minibus I'm genuinely worried my legs will give way.
2. Arrived in Oruro, for breakfast we drink some api and eat deep fried doe, Juan gives us some advice- toilets are hard to come by so use them when you can. At this point I know I have raging diarrhoea on the way and am starting to worry. Bad news. But it's okay, because soon we will be at the apartment that's been organised. Hoping in a taxi we arrive at the place. So looking forward to a nap in a comfy bed after that journey.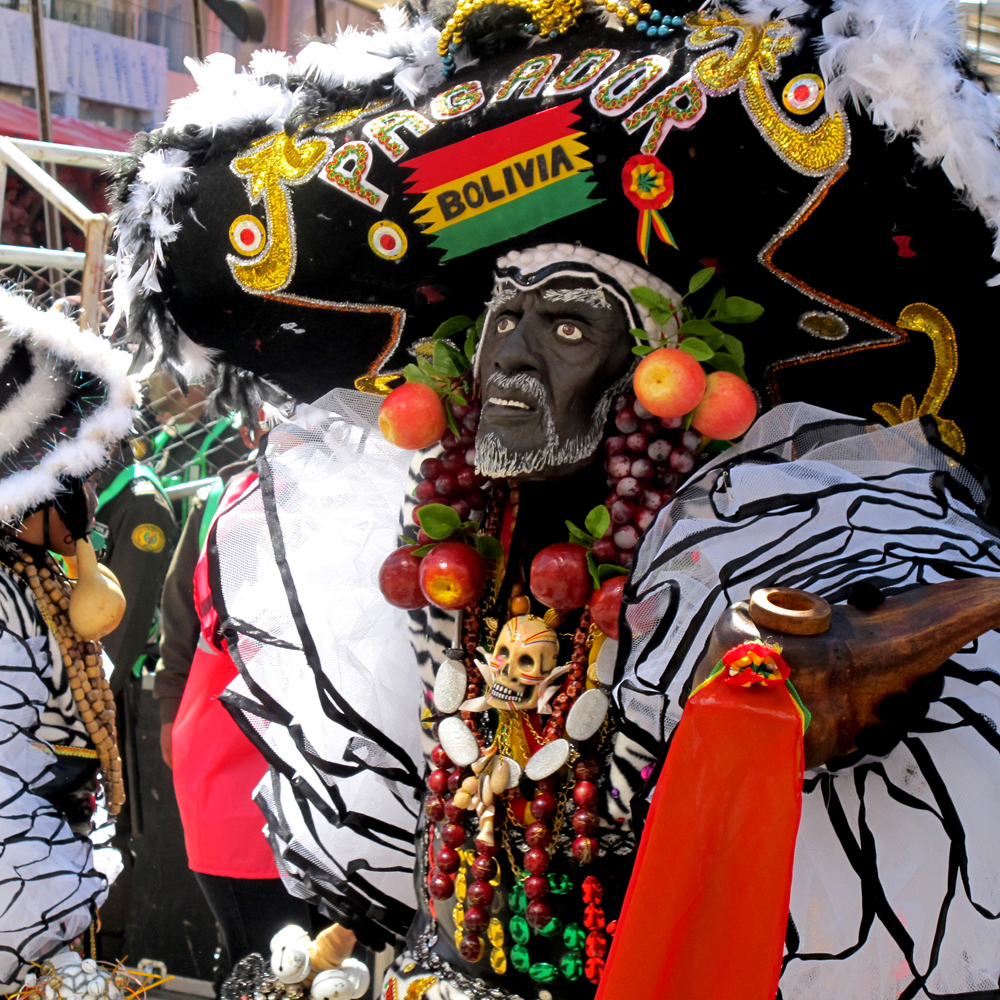 3. Arrive at the 'basic apartment' only to realise how loosely the term apartment and how accurately correct the term basic had been used. A dusty room with no beds and one lonely cupboard in the corner for 15 people and £15 each. Guy who owns it disappears off and comes back with a couple of thin, smelly mattresses. So it's all ok.
4. An hour and a half kip and were up and out on the beer. For a few hours we watch the parade pass by, getting through 2 bottles of singani and countless cans of pacenos beers. Everyone around is friendly, passing rum and coke around and toasting everything and anything. Incredible costumes and colours everywhere. Everyone dancing and screaming BESOS. A kiss is blown by a dancer and the crowd cheers.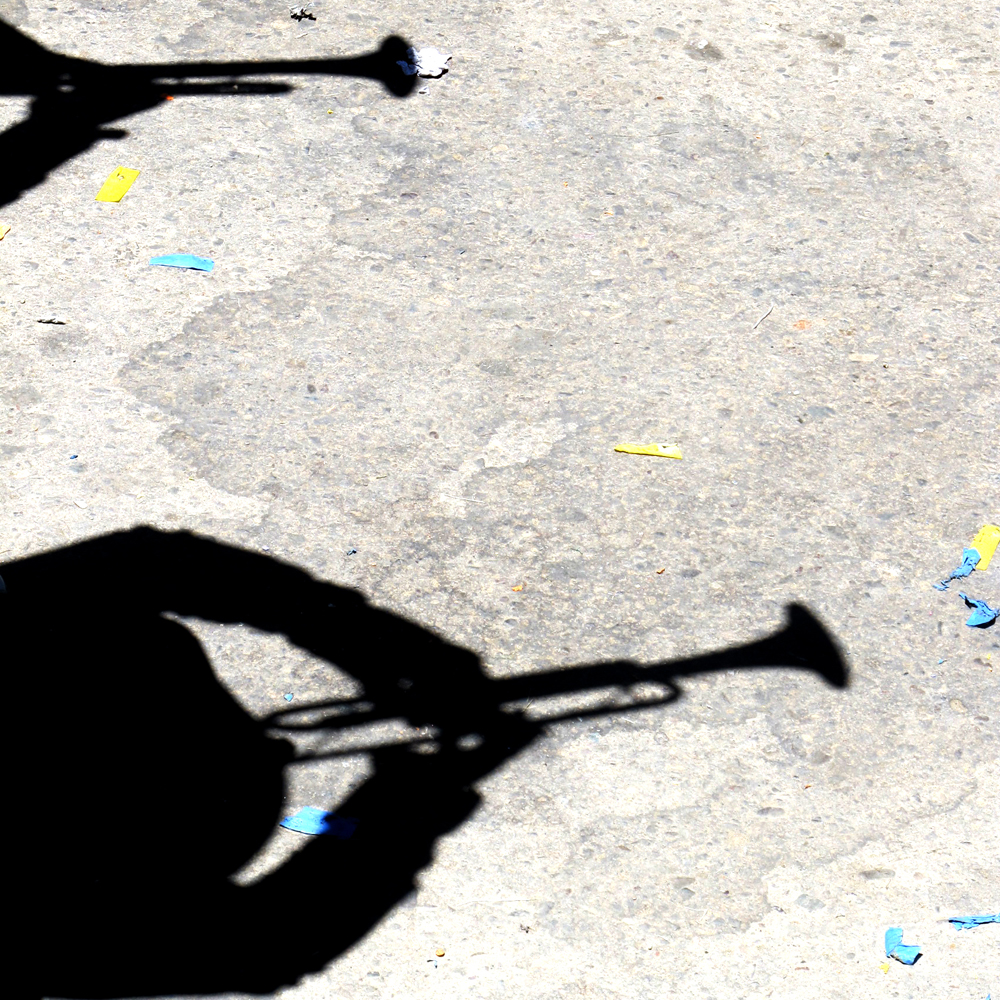 5. The rest of the afternoon follows a similar pattern; watching the parade, drinking, photographing and getting covered in foam. Feeling much better than the morning at this stage, one experience in an Oruro Carnaval portaloo is enough, you really don't want to return in a hurry. The parade continues as more beautifully dressed women dance past. It's the most flesh on show I've ever seen on a Bolivian woman. The girls next to us get emotional as their troop passes by. More besos are demanded.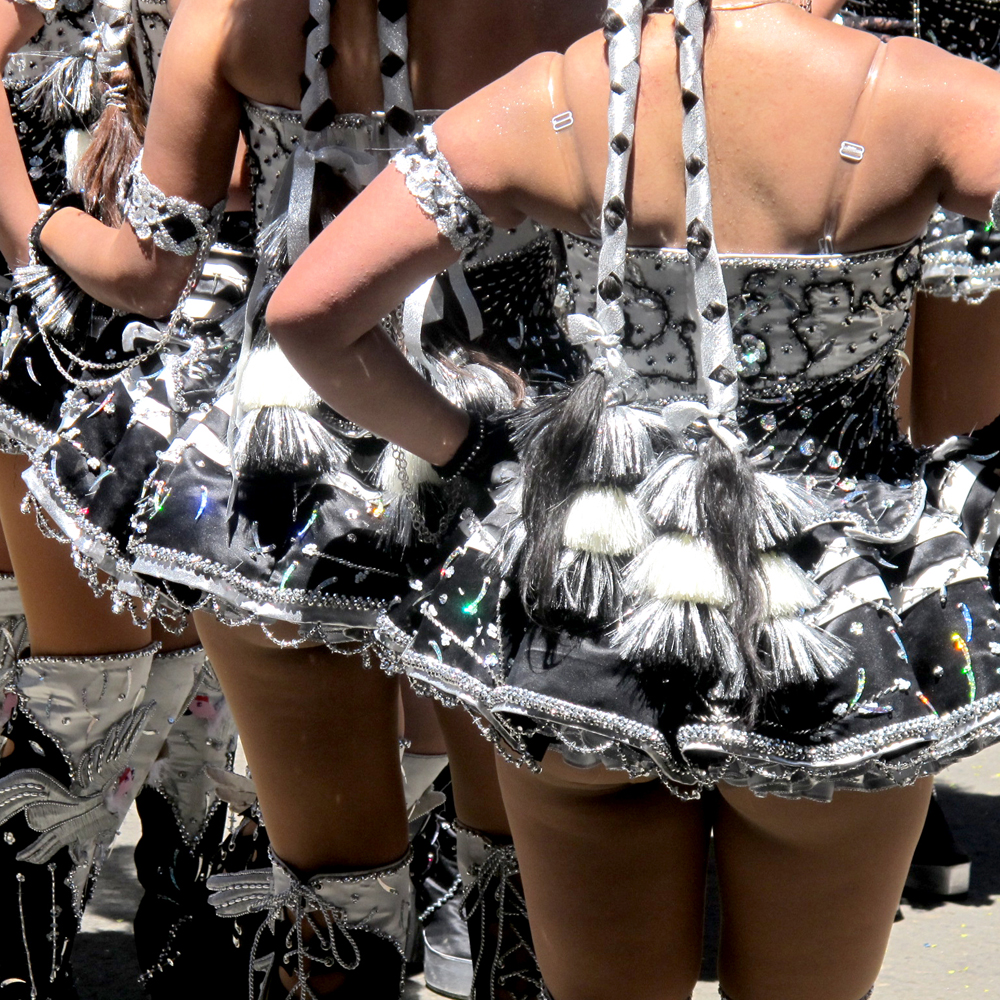 6. Leaving our seats on the parade's path we hear the horrendous news that a footbridge has collapsed, killing four and injuring around 60. The parade comes to a halt for a while. On the plaza the conversation centres around what happened, everyone with a different version of events. The organisers decide that the Carnaval must continue despite the tragedy.
7. On the plaza we meet so many people from so many places. The beer continues to flow as a bottle of rum is passed around. I get a little over excited with the foam. Toilets nowhere to be seen here, we pee behind a lorry in the street. Classiness is out of the window. I make it to just gone midnight before I'm ready to pass out from tiredness (and possibly the beer!). The group is down to 2 and we head back to the 'apartment'.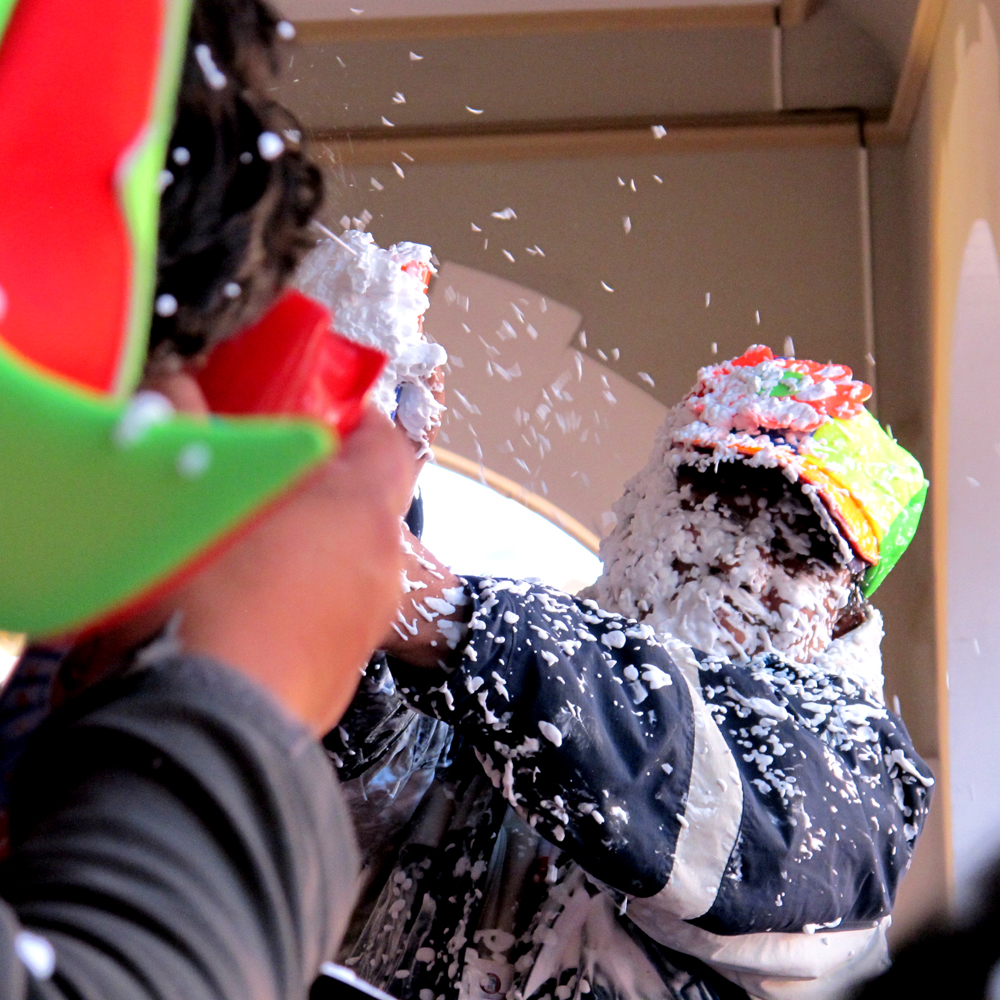 8. Wake up. Feels like I've been hit by a train. Watch Ollie and Zach tuck into a chicken leg with rice floating about in some stock. Can't stomach food. Later, watch Paco and Becky tuck into German pastries. Try my luck with a sausage sandwich on the way to the bus station. It's like no sausage I've ever encountered before and not in a good way. Two bites and I realise I still can't stomach food. Finally make it to the bus station.
9. 30bs (about £3) but the bus is leaving now so get on it. Twenty minutes later, the bus leaves. 4 and a half hour back. Snuggle up to random Bolivian with his 10 pack of bread rolls as a cushion.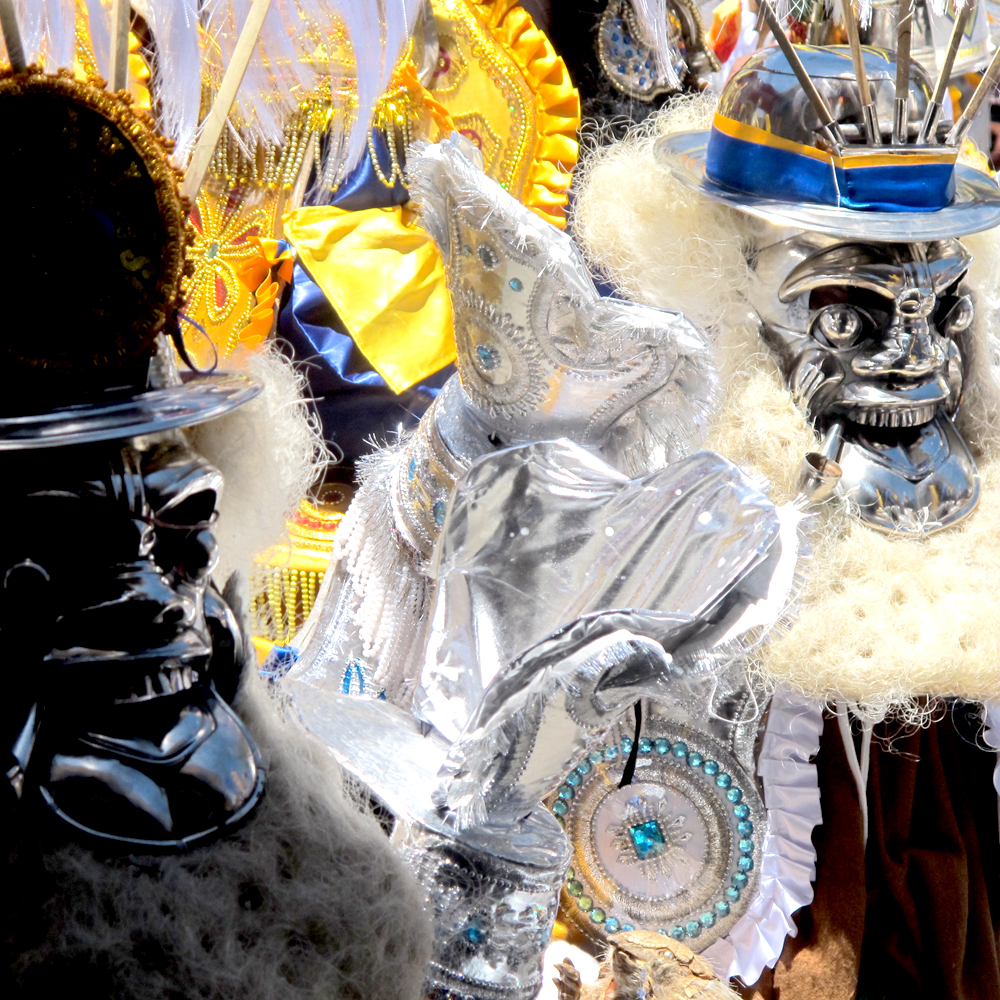 10. Arrive in La Paz and carnaval is in full swing here too. Bus gets to a point and can't go any further because of people celebrating in the street. Only option is to get off here. Get sprayed with foam and pelted with water balloons and guns, really not in the mood. Wonder around looking for a bus, a taxi, a horse and cart.. anything that will get us home. We find a taxi. Soon we are home and then the partying continues until Tuesday.